International Women's Day: Las Latinas de Sociedad Latina
Join Sociedad Latina in celebrating International Women's Day; a day to pause, reflect, and celebrate the amazing achievements and feats women have accomplished. Sociedad Latina recognizes the women that make our work possible-- those that have paved the way for our us, and those among us that inspire our youth each day. In honor of International Women's Day, we are sharing the immigration stories that celebrate our grandmothers, mothers, and Sociedad Latina staff in their journey to this country, this city, and ultimately Sociedad Latina.
Here are some of our stories.
My Mother came to the U.S. at fifteen years old. At that time there was no such thing as an "English Language Learner," it was sink or swim. She managed to graduate from high school but the times were different and marriage was expected. Three children and two divorces later, she took a job in Cambridge as a receptionist for the Latin American Studies Program (LASPAU), a non-profit affiliated with Harvard University working to increase access to higher education for Latin America and the Caribbean. It was there she realized she wanted to continue her education. She went on to study at Emmanuel College (of which I am a proud alumna and trustee!). At the time, she was a 30 year old single mother of three elementary school aged children. She was awarded an RKO scholarship to attend the Boston University School of Journalism. I spent many days and nights in the hallways of the editing and recording studios of Boston University. My mother had always been a huge sports fan, including coaching my soccer team when I was in elementary and middle school. I never met anyone who could rattle off the statistics on any baseball player or whose eyes would light up talking about sports superstition. It was her passion that led me to meet Luis Tiant. My mother interviewed him for a story on superstition in sports. My mother graduated and went on to work at El Mundo, La Semana, the Springfield Union News, ESPN and NBC as a sportscaster in the 1980's and 1990's. Do you know any women who have done so? Very, very, very, very few. (I would continue with the very's but you get my point: it was extremely rare). As I see the many women sportscasters today, I know they have no idea who my Mother is and how, because she paved the way, they are able to have the job they have today. It was not easy being a woman reporting sports and going into locker rooms to do an interview. The Me Too movement could have had a book of harassment stories from my mom alone. How did she survive such harassment? It's painful to think about, but the only answer I can surmise is that she did it for her passion and for her love of sports. No one should ever have to give up their passion because they are worn down by harassing comments about their looks, their body, and their skills and because of their gender. But that is the story of my Mother. She finally turned in her sports card with a crushed soul. She went on to become a flight attendant in her mid 50's - another dream of travelling the world that began at a young age. Although I do believe visiting the Eiffel tower, traveling to Ethiopia, and Patagonia gave her some healing, she always carried the scars of those days as a sportscaster/writer. In this month of honoring women I wanted to write this story in her honor to let us not forget the trailblazing women who paved the way for the women of today and the women of tomorrow. My Mother, Elena Susana Oliver Luchini has paved the way for me and most importantly for my young daughter Marley to be and do whatever she wants to. My mother truly believed in engaging and challenging the world around her, she took me along for the ride, showed me how and taught me to never give up the fight. I love and miss you Mom. Thank you for your unconditional love, guidance, and belief in me stronger than I can muster for myself, I would not be doing the work I do today if not for you.
In 1997, my family and I walked into our very first apartment and became mesmerized with the essence of fresh paint.
I remember us feeling an overwhelming sensation of having our own place, not knowing what was to come of navigating ourselves in a new and estranged place, that is, Boston.
At the time, I was inseparable of my mother.
In my mother's eyes, her weakness of not being able to communicate with the rest of the world in English, was my strength.
In my eyes, her refusal of accepting the new language, was my reward.
Although the school system taught us to properly use the language, my mother made sure we did not forget the tongue that bounds us to our place of heritage. Thanks to my mother, "Yo estoy orgullosa de ser bilingüe."
My strong-willed mother, Giuseppina Maria Teresa Cardarelli, immigrated from Italy to New York in 1970. A family who struggled on rationing their food in Italy came to the U.S. with high hopes. Her mother was a mail carrier by day and an office cleaner at night, while my mother helped out with her night job after long days at school learning English and getting accustomed to her new life. My mother eventually worked her way through the educational ladder and got her PhD in Cell Biology and has spent her life as a cancer researcher. It was her perseverance that provided a new life for herself and her family.
My name is Andrea Costa and I immigrated from Lima, Peru to Boston, U.S. in 2016. I feel proud of my heritage which is Native American (Inca culture), Italian, Portuguese and Spanish. My family's amazing journey started when they traveled by ship from Genoa, Italy, to Lima, Peru in order to work for an oil company in the 19th century. In 2016, I embarked on my own journey to study Accounting in the U.S. with the support of my beloved parents. At first, the hardest part was feeling homesick and getting used to the culture and language but, thanks to the support of my wonderful husband, I adjusted smoothly. Nowadays, I live and work in Boston and support organizations like Sociedad Latina that help immigrants like myself to succeed in a changing and sometimes difficult world.
My grandmother (Safta in Hebrew), Bibi Lieberman, arrived in New York in 1961, by way of Israel and a harrowing journey across the Soviet Union during the years of World War II, fleeing with her family from the Nazi invasion with nothing but the clothes on their backs. As a newcomer to the United States, Safta worked long hours at Craig's Bakery in Brooklyn, learning English through immersion, and within a few years worked her way up to managing the bakery. She was a warm, generous spirit who loved to cook and entertain, and would never let anyone leave her house without a weeks' worth of meals. Most importantly, she was an avid learner who instilled the values of education, hard work, and integrity in her children and grandchildren. These values allowed her to find peace, stability, and prosperity in her new home and pave the way for my family's success.
My mother (or Mamasita, as I like to call her) is anything but ordinary. She is a strong Puerto Rican and Spanish woman and has never backed down in the face of adversity. At just a few months old, my mother was adopted and at the age of 27, her curiosity led her to finding her birth parents. This is when she discovered her Hispanic heritage and has embraced it fully ever since. She recently received her Bachelor's Degree in Educational Studies and is working towards her Master's Degree. She selflessly raised my brother, sister, and I, while devoting 20 years of her life as a Teaching Assistant, and currently is the Union President for her elementary school. My mother has showed me how to be resilient and to face each situation with compassion and kindness.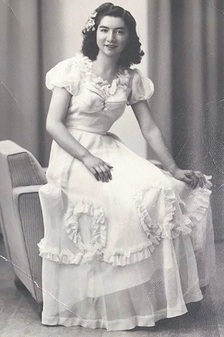 Teresa, Tiffany's Grandmother
Teresa Brun de Zenteno was born in La Paz, Bolivia and immigrated to the United States in 1971. She married the love of her life and high school sweetheart in Bolivia, had eight children and became a U.S. citizen in 1995. As one of her grandchildren, I can truly say she was one of the sweetest people on earth. Always doing community service projects, having families and strangers over for dinner, and baking goodies for her grandchildren. Her pride and joy were her 31 grandchildren who adore her kind soul. Although she is no longer with us, her spirit resides with all of us!
Agnes I and Agnes II, Genae's Grandmother and Mother
My Grandmother, Agnes Speirs Anderson, came over the ocean from Scotland by boat during the Great Depression (1920s) with her husband Robert because the ship building industry no longer offered employment to Robert. She worked in a NJ hospital as a seamstress, mending sheets and hospital uniforms. She could repair sewing machines and fix many things. She went back to Scotland with her son to visit her mother, leaving her husband behind in the U.S. While there, she gave birth to my Mom, Agnes Speirs Anderson Johnson, who also then migrated as a baby back to U.S. with her mom. They were poor but worked very hard for their children's benefit. My mom, Agnes, went on to become a registered nurse who opened, managed and treated patients at the first HIV Testing clinic in the state of RI.
When I was five years old, I came to this country to join my parents who had already been here for a year saving money and settling our new roots in New York City. We hadn't come to the conclusion though, that we were alone and uninformed. The three of us lived in one small bedroom, while both of my parents worked over-time at a bar and restaurant. I, too young for kindergarten, stayed inside those four walls watching cartoons, trying to assimilate and learn the new language. Despite all the obstacles we've experienced, I was the first person in my family to graduate from college. I am now writing a photo-memoir titled "Dotted Line: Marked by La Frontera", where I weave my story along with the stories of Latinos who are affected by the border in the Trump Era.
Surijit, Simi's Grandmother
My grandmother, Surjit Kaur, immigrated to Canada at the age of 71. Leaving her home, Ludhiana India, where she was born and lived her entire life, was not only difficult for her, but also was a completely new change. One of the things that astonished her the most was to see many Gurdwaras (Sikh temples) in Brampton and a large Punjabi diaspora in Canada. Though she never visited India after living in Canada for 15 years, she feels a sense of belonging and home.